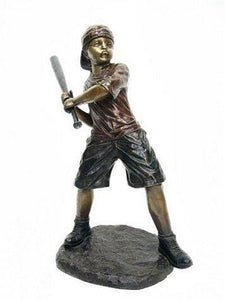 Baseball seems to be in the blood of this astute young man who stands ready and confidently with his baseball bat. Obviously, he is going to make the best hit ever!
Bronze sculpture.
Dimensions: 41"H x 38" x 18"
We will match and do better on any in-stock or custom bronze sculpture. Email us.

Normally ships in 2-3 weeks when in stock.

Ships via common carrier.

If you need this produced for shipment to you if not in stock, please be advised there is a 50% deposit we need to make to the factory to commence production. Delivery is 12-16 weeks because it ships via sea freight.