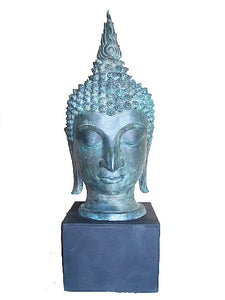 A Buddha head is often revered and regarded as one of the most important parts of the body. Because of this, Buddha heads are crafted to represent the vast wealth of knowledge he acquired as the awakened one. Buddha heads are often kept because it presents a symbol of peace and tranquility. It provides an inspiration to deepen one's own practice of inner peace.
Our Buddha head comes beautifully detailed to add a sense of peace and calmness to the home or garden. It is often used in Feng Shui to bring good energy to the house.
Bronze sculpture.
Dimensions: 42"H x 20" x 23"
We will match and do better on any in-stock or custom bronze sculpture. Email us.

Normally ships in 1-2 weeks if in stock.