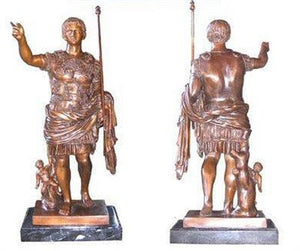 Augustus Caesar was the first ruler of the Roman Empire and is responsible for uniting and maintaining peace for the whole of Rome. He was the successor of Julius Caesar who promptly carried out and controlled the Roman Empire to ensure that no further uprisings would exists as it did under his great uncle's ruling. Noted for the Augustan Age, Augustus Caesar took a lot of pride in promoting the arts and architectural pursuits. Today, Augustus Caesar has been recorded as one of the greatest rulers that Rome ever produced.
Augustus Caesar comes beautifully handcrafted displaying his military garbs. Bronze sculpture on a marble base.

Dimensions: 31"H x 15"W x 12"D
We will match and do better on any in-stock or custom bronze sculpture. Email us.

Normally ships in 1-2 weeks if in stock.

If you need this produced for shipment to you if not in stock, please be advised there is a 50% deposit we need to make to the factory to commence production. Delivery is 12-16 weeks because it ships via sea freight.