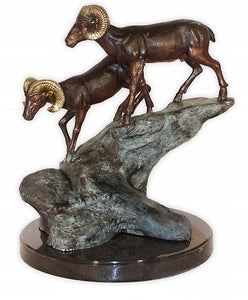 The bighorn is native to North America and has been named because of its characteristic big horns. The horns are said to weigh about 30 lbs while the rest of the body weighs about 300 lbs. Here, our sculptor captures two bighorns making their way down a mountain in this amazing sculpture designed for the home.
Bronze sculpture on marble base.
Dimensions: 14"H x 23" x 22"

Normally ships in 12-16 weeks. Please email for ordering instructions.