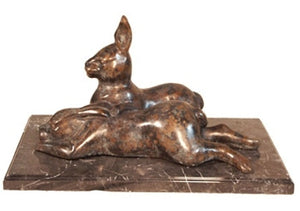 There are currently 305 breeds of domestic rabbit known to man. It is also said that rabbits have long been domesticated by man. Our sculpture of two rabbits come ready to add character to the tabletop and highlights one rabbit looking rather attentive while the other appears to take a nap. If you are a rabbit lover, you might just consider this sculpture for the tabletop.
Bronze sculpture.
Dimensions: 10"H x 19"L x 12"W

Normally ships in 2-3 weeks.