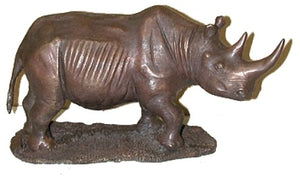 There are five extant species of rhinoceros known to man. Out of this, two are native to Africa while the other three are native to Asia. Rhinos as they are oftentimes known by, are foragers which possess a largely herbivorous diet.
Our rhinoceros is sure to add a statement to the tabletop and features a rhino adult. Bronze sculpture.
Dimensions: 13"L

Normally ships in 2-3 weeks.