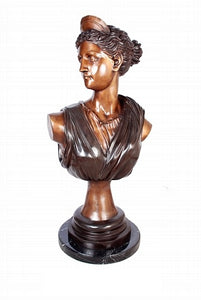 Diana is the Roman Goddess of the hunt, moon and nature. She is often associated with the animals and woodland. She was one of the three female Goddess to affirm that she will never marry. The other two Goddesses would be Minerva and Vesta.
Our bust sculpture of Diana comes beautifully detailed to add a statement to a den or office.
Bronze sculpture.
Dimensions: 41"H x 20" x 15"
We will match and do better on any in-stock or custom bronze sculpture. Email us.

If you need this produced for shipment to you when not in stock, please be advised there is a 50% deposit we need to make to the factory to commence production. Delivery is 12-16 weeks because it ships via sea freight.