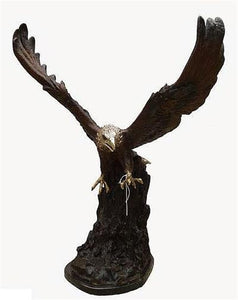 The bald eagle has an average life span of 28 years in the wild. It is a carnivore which is capable of growing its wingspan up to 8 ft in length.
Our American bald eagle is seen here swooping to make a descent with both of its talons outstretched. It comes beautifully detailed for the den or office.
Bronze statue.
Dimensions: 45"H x 35"W x 25"D
We will match and do better on any in-stock or custom bronze sculpture. Email us.

Normally ships in 1-2 weeks if in stock.

Ships via common carrier.

If you need this produced for shipment to you if not in stock, please be advised there is a 50% deposit we need to make to the factory to commence production. Delivery is 12-16 weeks because it ships via sea freight.