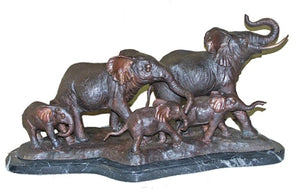 The importance of the family unit takes precedence in this timeless sculpture of bronze elephants highlighting Daddy and Mama elephants leading their little baby elephants towards progress. Created from bronze and then set on a solid marble base, our family elephant sculpture surely sets a lovely statement for the home as it embraces the importance of family unity and love. Bronze on marble base. Hand finished.

Dimensions: 16"H x 30"L x 10"W

Normally ships in 1-2 weeks.