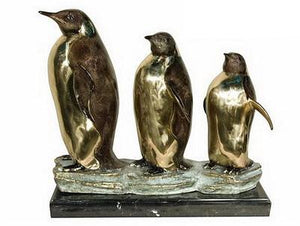 Penguins are often characterized by a black and white plumage. However, although these birds have wings, they are unable to fly. Instead their wings are created as flippers to allow them to swim underwater and search for food. Typically food for the penguins include krill, fish and squid.
Our penguin sculpture features three penguins on a base as shown from the Daddy penguin to the Mommy penguin and their little one.
Bronze sculpture.
Dimensions: 18"H x 21"W x 11"D

Normally ships in 2-3 weeks.