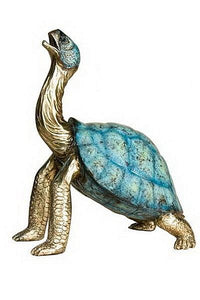 The turtle is central to many mythologies and is widely celebrated across many cultures. Sadly, they are also facing the threat of extinction due to man's moves to encroach in their habitat. They are also hunted for meat. However, those who enjoy keeping them as pets are usually happy with them.
Our turtle sculpture comes with a beautiful patina finish and will surely add a character to the home or garden or as a gift to a turtle lover. Bronze.
Dimensions: 16"H x 14" x 10"

Normally ships in 2-3 weeks.