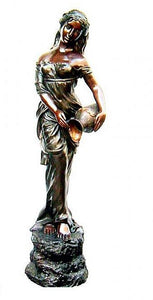 One of our female sculptures, this piece highlights beauty and form and features a tall young lady holding an urn. Possibly influenced by the Bible's Rebecca, she comes beautifully detailed to make an addition to the pool or pond..
Bronze fountain statue.
Dimensions: About 59"H x 17" x 15"

Normally ships in 1-2 weeks when stocked.
If you need this produced for shipment to you when not in stock, please be advised there is a 50% deposit we need to make to the factory to commence production. Delivery is 12-16 weeks because it ships via sea freight.