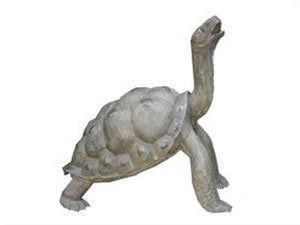 Sea dwelling turtles are known to eat almost anything such as algae, squid and even jellyfish. They also have lived on earth for more than 200 million years, outlasting the dinosaurs.
Our sea turtle sculpture is sure to add character to a large pond or pool. It comes life size and shows a turtle which will send a stream of water into your pond or pool.
Bronze fountain sculpture.
Dimensions: 63"H x 71" x 33"
Weight: About 380 lbs

Normally ships in 12-16 weeks.
If you need this produced for shipment to you, please be advised there is a 50% deposit we need to make to the factory to commence production. Delivery is 12-16 weeks because it ships via sea freight.