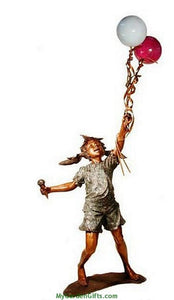 A young girl seems to have plenty to hold in her hands. She can be seen holding an ice cream in one hand and two balloons in the other. She comes beautifully detailed and is captured as if there is a heavy wind blowing her way.
Bronze sculpture.
Dimensions: 83"H x 35" x 30"
We will match and do better on any in-stock or custom bronze crane sculpture. Email us.

Normally ships in 12-16 weeks.
If you need this produced for shipment to you, please be advised there is a 50% deposit we need to make to the factory to commence production. Delivery is 12-16 weeks because it ships via sea freight.