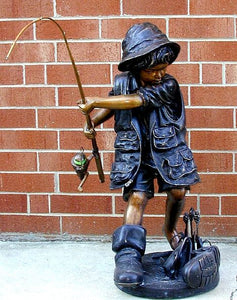 Dressed in his favorite fishing attire, our young boy seems intent to have a good time with his fishing expedition. He comes beautifully detailed and wears a cap and expertly holds out his fishing rod as shown. Designed for use as a fountain statue, our fishing boy will add character to any water feature.
Bronze fountain statue.
Dimensions: 43"H x 46"W x 23"D
Weight: About 130 lbs
We will match and do better on any in-stock or custom bronze sculpture. Email us.

Normally ships in 12-16 weeks.
If you need this produced for shipment to you, please be advised there is a 50% deposit we need to make to the factory to commence production. Delivery is 12-16 weeks because it ships via sea freight.