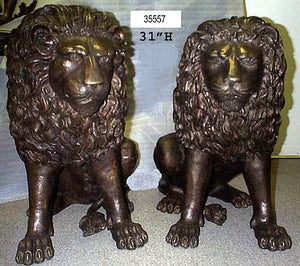 Lions are known to be the only cats which live in groups mostly composed of about 3 males, a dozen female lions and cubs. Our lion statues are based on male lions which boast beautiful mane encircling their heads. Sculptures are beautifully detailed and will add a statement for a grand entrance to the home or any establishment like a restaurant or office.
Bronze sculptures.

Dimensions: About 31"H
We will match and do better on any in-stock or custom bronze sculpture. Email us.

Normally ships in 12-16 weeks.
If you need this produced for shipment to you, please be advised there is a 50% deposit we need to make to the factory to commence production. Delivery is 12-16 weeks because it ships via sea freight.