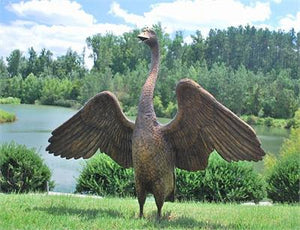 Swans add a graceful addition to the garden because of the symbolic meaning they hold. They are often seen as symbols of purity and grace in many cultures.
Our large swan sculpture not only adds a statement for the garden but it is designed for use as a fountain statue for your pond or pool. The sculpture comes beautifully detailed and captures a swan sending a stream of water as it stands gracefully holding both wings apart.
Bronze sculpture.
Dimensions: 41"H x 50"W x 27"D
About 100 lbs

Normally ships in 12-16 weeks.

If you need this produced for shipment to you, please be advised there is a 50% deposit we need to make to the factory to commence production. Delivery is 12-16 weeks because it ships via sea freight.