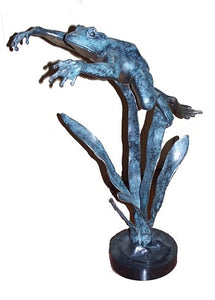 Our frog appears to be making one giant leap in this large fountain sculpture designed for the garden. It shows the frog all stretched out with webbed feet and all, leaping across for a graceful landing ahead. This bronze sculpture of a frog making its way across, adds a lovely statement for home and garden decor.
Bronze fountain sculpture. Hand finished.

Dimensions:  24"H x 22"L x 19"W
Weight: 25 lbs.

Normally ships in 1-2 weeks.
If you need this produced for shipment to you when not in stock, please be advised there is a 50% deposit we need to make to the factory to commence production. Delivery is 12-16 weeks because it ships via sea freight.