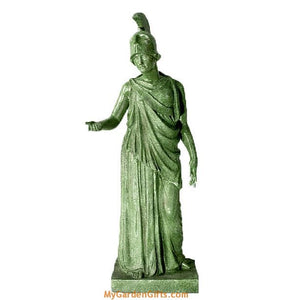 Athena is the Greek Goddess of Wisdom and War. She is known to be a very important Goddess and is in charge of wisdom, courage, law and justice, Mathematics, warfare and more. Athena was believed to have been born from Zeus after he experienced an immense headache. It is said that she sprang fully grown and wore an armor while coming out of his forehead.
Our sculpture of Athena will surely add a classical statement to the garden or home.
Bronze sculpture.
Dimensions: 69"H x 28" x 28"
We will match and do better on any in-stock or custom sculpture. Email us.

Normally ships in 12-16 weeks.
If you need this produced for shipment to you, please be advised there is a 50% deposit we need to make to the factory to commence production. Delivery is 12-16 weeks because it ships via sea freight.