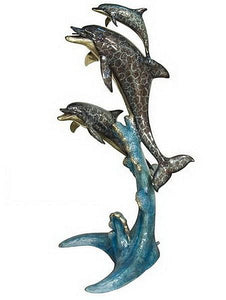 Dolphins leap and twitch and then many times click trying to communicate to the other fellow mate. Our life size sculpture captures a slice of their everyday life showing the enthusiasm of three dolphins.
Created from bronze, the sculpture comes beautifully detailed for permanent outdoor use.
Please
email us
to send if this sculpture can be used a fountain statue.
Dimensions: 76"H x 36" x 27"
Normally ships in 2-3 weeks when stocked.