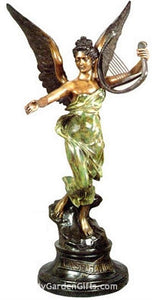 One of our distinguished angel sculptures showing a glorious angel descending with her harp. She is beautifully created and hand finished, a fitting piece for a church, a memorial garden or for simply setting a heavenly stage in the garden. This sculpture comes hand painted in color.
Bronze sculpture.

Dimensions: 85"H x 42"W

Normally ships in 12-16 weeks.
If you need this produced for shipment to you, please be advised there is a 50% deposit we need to make to the factory to commence production. Delivery is 12-16 weeks because it ships via sea freight.