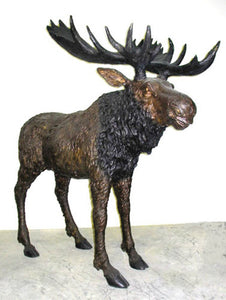 One of the largest extant species in the Deer Family, moose are characterized by their broad and palmate shaped antlers which are typically represented in male species. Our large moose sculpture surely adds a unique statement for a zoo or park or even a ranch and comes detailed to add years of service.
Bronze.
Dimensions: 74"L x 43"W x 68"H
Weight:
Approx. 380 lbs
We will match and do better on any in-stock or custom bronze sculpture. Email us.

Normally ships in 2-3 weeks.
If you need this produced for shipment to you, please be advised there is a 50% deposit we need to make to the factory to commence production. Delivery is 12-16 weeks because it ships via sea freight.