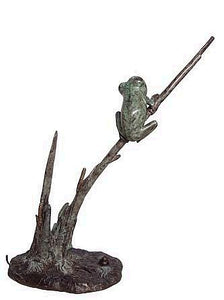 Frogs have been popularized in many cultures and are mentioned in Aesop's fables. They are said to bring luck and fertility to whoever keeps them. Here, our little frog appears to be lost and is clutching a twig as shown in this fountain sculpture designed for the home or garden. Bronze fountain statue.
Dimensions: 30"H x 12" x 24"

Normally ships in 1-2 weeks.
If you need this produced for shipment to you when not in stock, please be advised there is a 50% deposit we need to make to the factory to commence production. Delivery is 12-16 weeks because it ships via sea freight.