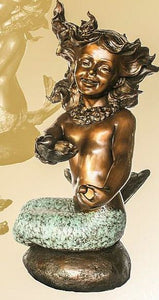 Mermaids have inspired much of the art and literature in recent years and this can be shown by the rising number of operas, films and paintings which use their form as part of its content. One of the famous literature which is celebrated includes Hans Christian Andersen's story on "The Little Mermaid" which came out in 1837.
Here, our mermaid sculpture is designed for use with a pool or pond and shows the mermaid holding out a shell as shown.
Bronze fountain sculpture.
Dimensions: 27"H x 20" x 13"
Normally ships in 12-16 weeks when not in stock.
If you need this produced for shipment to you when not in stock, please be advised there is a 50% deposit we need to make to the factory to commence production. Delivery is 12-16 weeks because it ships via sea freight.