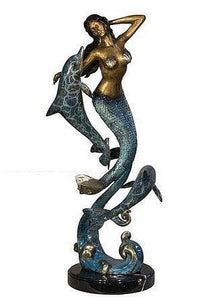 No one has seen a mermaid and if there are pictures of mermaids, it has only opened up for more speculation as to their credibility. Still, mermaids have long inspired much of the stories and literature of these days. They are also mentioned in operas and films.
Here, a mermaid rises from the ocean with two dolphins close by her. This is a fine sculpture for adding character to the home. It can be used outdoors as well.
Bronze sculpture.
Dimensions: 30"H x 16" x 13"
Normally ships in 2-3 weeks when stocked.
If you need this produced for shipment to you when not in stock, please be advised there is a 50% deposit we need to make to the factory to commence production. Delivery is 12-16 weeks because it ships via sea freight.