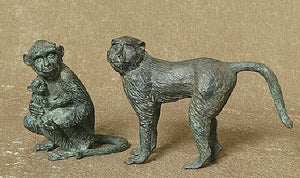 Monkeys are highly social animals which most times live in groups or troops. Most often a troop may consist of several female monkeys,a male or two and their young. Here, a male monkey spends time with his mate and their baby. Created from bronze, this sculpture adds a statement for any home or garden.
Dimensions: Tallest measures about 8"H

Normally ships in 1-2 weeks.