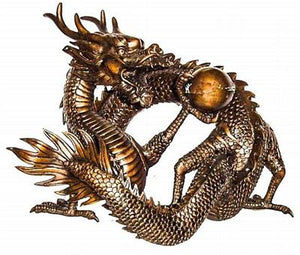 The dragon is considered to be an auspicious symbol in Chinese culture and is also represented on the Chinese zodiac calendar. Those born in the year of the dragon are said to be ambitious but hotheaded. Our Chinese dragon is a beautiful sculpture that will add a theme to the desk or office. Dragons are also used in feng shui to usher in luck and good fortune.
Bronze sculpture.
Dimensions: 15.5" x 18" x 15"
We will match and do better on any in-stock or custom bronze sculpture. Email us.

Normally ships in 1-2 weeks when stocked.
If you need this produced for shipment to you when not in stock, please be advised there is a 50% deposit we need to make to the factory to commence production. Delivery is 12-16 weeks because it ships via sea freight.