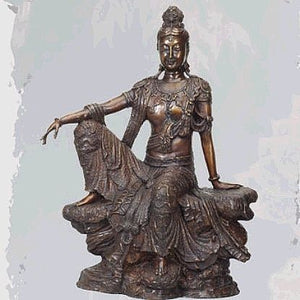 Sometimes referred to as "Guanyin", Kwan Yin is often referred to as the Goddess of Mercy and is observed by Buddhists who believe that when one departs, the soul is placed by Kwan Yin in the heart of the lotus and then sent to the pure land of Sukhavati. Several large temples are dedicated towards the worship of Kwan Yin, the largest of which are located in East Asia. In Tibetan temples, Kwan Yin is known as Chenrezig.
Our sculpture of Kwan Yin comes beautifully detailed to add character to the home or garden. She is seen here resting on a stump with one hand placed on her leg.
Bronze sculpture.
Dimensions: 21"H x 16"W
We will match and do better on any in-stock or custom bronze sculpture. Email us.

Normally ships in 1-2 weeks.