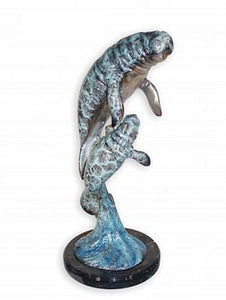 Manatees, also known as sea cows, are thought to be the closest relatives to the Dugongs. Found in parts of West Africa and specific regions in the Caribbean, manatees are notably large animals which can grow up to 1200 lbs. They live in shallow waters and usually subsist on vegetation like sea grass and mangroves.

Here, our sculptor creates the manatees from bronze, highlighting a mother manatee guiding her young, a perfect tabletop sculpture for the wildlife theme. Bronze and set on a marble base.

Dimensions: 20"H x 14" x 9"

Normally ships in 2-3 weeks.