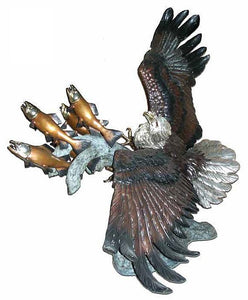 The bald eagle gets much of their food by scavenging or by stealing the food of many other predators although it has powerful talons which are capable of ripping off the flesh of animals.
Our American bald eagle is a hunter and is seen hunting down some fishes in this life size sculpture designed to act as a fountain statue.Created from bronze, the sculpture comes beautifully detailed for adding to a pond or pool.
Dimensions: 86"H x 93"W
Weight: About 650 lbs
We will match and do better on any in-stock or custom bronze sculpture. Email us.

Normally ships in 2-3 weeks when stocked. Up to 12-16 weeks when not stocked.