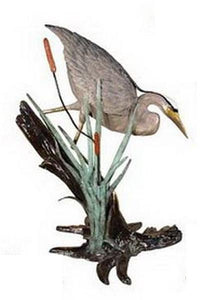 The herons are carnivorous birds which can be found in the marshes and wetlands,consuming other small fishes, frogs or aquatic insects. They are found in almost most parts of the world and are known to be widely distributed.
Here, our large heron sculpture highlights this piece in color as it takes large strides to rest finally on a tree trunk.
Bronze sculpture.
Dimensions: 38"H x 37" x 23"
We will match and do better on any in-stock or custom bronze heron sculpture. Email us.

Normally ships in 1-2 weeks if in stock.