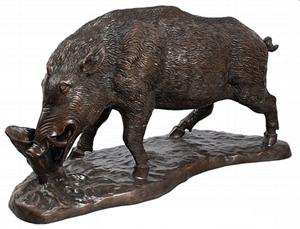 The wild boar is a wild pig that is native to Europe, north-west Africa and parts of Asia. It is known to be an adaptable animal that is able to blend in to its environment. It has a penchant for eating almost anything that it sees as food and can swim very well as well. Here, our wild boar sculpture comes beautifully detailed and captures the sight of a wild boar prowling in the wild.
Bronze sculpture.
Dimensions: 21"H x 35"W x 12"D

Normally ships in 1-2 weeks if in stock.