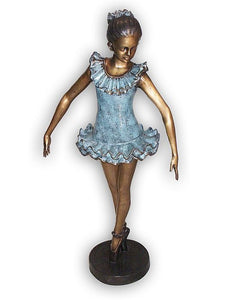 The word "ballet" is a French word which came into English usage around 1630. Here, a young ballerina takes to the stage and exhibits her dance form for the audience. She wears a dainty ballet costume and holds her hair as seen in the picture.
Bronze sculpture. Beautifully detailed.
Dimensions: 45"H x 23" x 12"
We will match and do better on any in-stock or custom bronze sculpture. Email us.

Normally ships in 2-3 weeks when stocked.
If you need this produced for shipment to you when not in stock, please be advised there is a 50% deposit we need to make to the factory to commence production. Delivery is 12-16 weeks because it ships via sea freight.